Santa Clarita Communities: Stevenson Ranch CA
Commonly referred to as "The Gateway to the Santa Clarita Valley," the enclave of Stevenson Ranch is known for its "bedroom community" atmosphere and streets named after famous literary authors. Close to shopping, schools and commuter access points, Stevenson Ranch especially appeals to home buyers with growing families and Los Angeles commuters. Stevenson Ranch was ranked 18 in of the top 100 places to live by Money Magazine.
Stevenson Ranch began with the first groundbreaking in 1989 and has continued to set the trend in the Santa Clarita Valley as family friendly, with a little something for everybody. Three public parks, great elementary schools, paseo trails, and a varied selection of home styles to choose from are only some of the reasons home buyers make Stevenson Ranch their area of choice.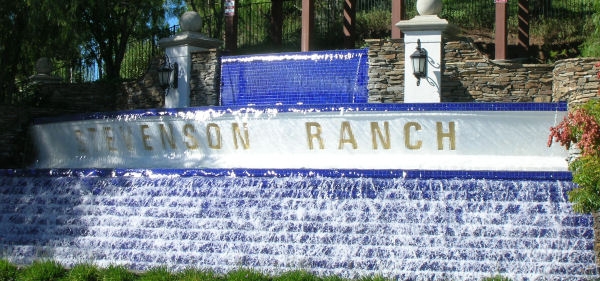 Search Stevenson Ranch Homes By Area
Stevenson Ranch Tract Areas
Stevenson Ranch
| | | | |
| --- | --- | --- | --- |
| The Arts (ARTS) | Aspen (ASPN) | Atessa (ATES) | Barrington (BARR) |
| Belcrest (BELC) | Bellagio (BELA) | Breton (BRET) | Centex Heights (CTXH) |
| Centex Ridge (CRID) | Copperfield (COPF) | Crescent Moon (CRSCM) | Crestview Cottages (CVCT) |
| Crown Villas (CRNV) | Custom Homes (CSTEV) | Diamond Head (DMHD) | Greystone Collection (GREY) |
| The Highlands (HIGH) | Mandenville (MANDV) | Marblehead (MBHD) | Northstar (NORST) |
| Oak Terrace (OAKT) | Pacific Colony (PCOL) | Pacific Summit (PSUM) | Pacific Ranch Estates (PACR) |
| Peacock Ridge (PCOK) | Remington (RMTN) | Ryland Summit (RSUM) | Serenade (SRND) |
| Sienna (SNNA) | Skyview (SKYV) | Spyglass (SPYG) | Summerset (SUMS) |
| Torcello (TORC) | Toscana (TOSC | Treana (TREA) | Twilight Vista (TWLV) |
| Vail (VAIL) | Verona (VERO) | Vista Ladera (VLAD) | Winterset (WINS) |
South Stevenson Ranch
| | | | |
| --- | --- | --- | --- |
| Custom S. Stevenson Ranch (CSOSR) | Enclave (ENCL) | Hillside Village (HSVL) | Oakridge (OKRSO) |
| Sunset Point (SNPT) | Southern Oaks Estates (SOES) | Southern Oaks Grove (SOGR) | Southern Oaks Manor (SOMNR) |
| | | | |
Schools in Stevenson Ranch
Tutor Time Child Care/Learning Center
25804 Hemingway Ave, Santa Clarita, CA
(661) 799-1990
Pico Canyon Elementary School
25255 Pico Canyon Rd, Stevenson Ranch, CA
(661) 291-4080
Stevenson Ranch Elementary School
25820 Carroll Ln, Newhall, CA
(661) 291-4070
Stevenson Ranch Restaurants
Claim Jumper Restaurant
25740 The Old Rd
Stevenson Ranch, CA (661) 254-2628
Romano's Macaroni Grill
25720 The Old Rd
Stevenson Ranch, CA
(661) 284-1850
Chuck E Cheese
25955 The Old Rd
Stevenson Ranch, CA
(661) 260-1773
Wood Ranch Bar-B-Que & Grill
25580 The Old Rd
Stevenson Ranch, CA
(661) 222-9494
Yamato Restaurant
24947 Pico Canyon Rd
Stevenson Ranch, CA
(661) 799-0707
Pick Up Stix
25960 The Old Rd
Stevenson Ranch, CA
(661) 288-2090
Spumoni Restaurant
24917 Pico Canyon Rd
Stevenson Ranch, CA
(661) 799-0360
Chili's Grill & Bar
25970 The Old Rd
Stevenson Ranch, CA
(661) 260-3620
Baskin Robbins 31 Flavors
25884 The Old Rd
Stevenson Ranch, CA
(661) 284-1331